Testimonials – What families think about the Pre-school…
Cherrybrook Pre School provides engaging and purposeful learning experiences in a caring and safe environment. The experienced and supportive staff encourage the students to be thinkers, inquirers and risk takers. My son loved every day at Cherry brook Pre School and is now feeling confident about moving to Kindergarten.                                                                                                                 Katie  (2017)
The best asset in this preschool is the loving, caring and gorgeous teachers who provide a great learning experience for children and encourage them to be a confident, cheerful little person with a curious heart for everything in their day to day life!                                                                                                                                                                                                   Jingyi  (2017)
"We have been extremely happy with Cherrybrook Community Pre-School. It is a lovely, caring pre-school. Our son went there the year before starting school and thrived in the caring, supportive and stimulating environment. The teachers are very experienced, caring and fun – and they really care about the kids and strive to bring out the best in each individual. The teaching team are a wonderful unit who provide an excellent nurturing and teaching environment that succeeds in readying children for the rigours of school. Thank you so much Janet, Julia, Mel and Nirodha!"                                                                                                                                   Pamela (2107)
We've sent our three children to Cherrybrook Community Pre-school and each of them have enjoyed their time there and had their individual needs met. The director's dedication and passion for children along with the care, experience and warmth of the educators have set apart this preschool from all others. The activities have been varied and tailored to interests, communication has been excellent and there have been plenty of opportunities for friendship, learning and discovery to take place. We are thankful for the foundation that our kids have had through their time at this preschool and we whole-heartedly recommend this preschool to others.                                                                                                                                                   Christine  (Dec 2015)
'I first sent my older son to Cherrybrook Pre-School and now my younger son goes there. I cannot recommend this pre-school highly enough. The educators there are gentle, caring and attentive. They also teach the kids quite a lot through play. In fact my older son's kindergarten teacher said to me that she could tell the difference between the kids who had attended Cherrybrook Community Pre-school and those who hadn't. We are lucky to be able to send our boys there.'                                                                                                                                                                                                       Rathi  (Dec 2015)
We have sent both of our children to Cherrybrook Community Pre-school and we can't speak highly enough of the time they spent there. All of the teachers were warm and caring and they created a beautiful environment for our children to learn and play in. We feel strongly that 'Gumnut' as everyone calls it, is the very best pre-school in the area and that the time they spent there set them up wonderfully for their transition into school.                         Lisa (2013)
 My daughter attended Cherrybrook Community Preschool just one day per week, she was instantly welcomed and felt completely comfortable.  The educators have created a warm environment where each individual child is valued for who they are.  The preschool has a family feel and the children and their families become part of a wonderful community whose reach extends beyond the standard preschool format to educate and enrich the children.         Michelle (2014)
 My little one loves preschool. Every weekend, she looks forward to go back to preschool on Monday. All the teachers are friendly and treat her very well. As parents, we really appreciate that. Thanks a lot. Thanks for giving her such good times being with you.                                              Michelle and Kevin (2014)                                                                                                     
We've had a wonderful year at Cherrybrook Community Pre-school. They have a wonderful team of dedicated and professional staff. At all times they were so kind, warm and caring towards the children. You provided them with a creative and nurturing environment. They are always so motivated to provide a wonderful experience for the children and you can see that reflects in the happiness of the children. Everything is geared to foster the children's imagination and development. My child would always ask "how many more sleeps until my pre-school day?" My child loves it. We'll be sad to say goodbye at the end of this year.  I Highly recommended it!!                                                                                                                                                                           Vanessa (2014)
Cherrybrook Preschool is more than just a preschool, it's an extended family where we feel comfortable taking our children. The teachers are warm and nurturing, giving children the opportunity to grow with confidence and learn.
When I walk into the preschool each time it is calm and pleasant, with children happily playing activities together with the teachers. The children are always put first and everything is about them and what is in their best interest. It's a little community that is surrounded with love and friendship.        Kristine (2014)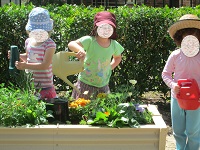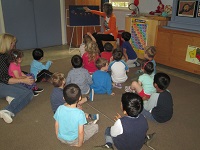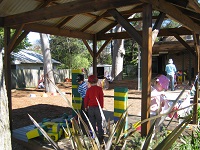 I feel quite sad that my youngest is about to graduate from preschool. It's been an incredible experience. What sets this centre apart is the care that is shown to the children. They are truly loved and the teachers are very experienced. My children have truly flourished under the care of Janet and her delightful team.                                                                                                                                                                                                                 Melissa (2014)
My daughter looks forward to going to preschool each day. She comes home full of stories and talking about things she has learnt. Much effort is put into connecting learning to interests and the Educators make her feel secure and listened to. I am assured that she is getting the best of care and education, including school readiness. There is also a great sense of belonging amongst the children, staff and families. Thank you Janet, Julia, Mel, Pam and Clare!                                                                                                                                                                                                                         Ruth 🙂 (2014)
"We have known Cherrybrook Community Pre-school and the Educators for 6 years during which time, my three children have been lucky to attend.  We have had comfort in knowing they were extremely well looked after, nurtured and most importantly, entertained with fun activities while learning.  On the first day of pre-school, any concerns of separation anxiety were very quickly diminished as it was declared 'bye mum – see you later' not long after arriving.  This was testament to the fact that pre-school felt like home – safe and fun.  The Educators were paramount in preparing my children for the start of school – giving them the confidence to begin Kindergarten with excitement, enthusiasm and giving me, peace of mind".                                                       Helen (2013)
"In 2010 we moved from Melbourne to Dural with my 4 year old daughter, Chloe and my 2 year old daughter, Hannah.  Cherrybrook Community Pre-School was one of the first organisations I contacted.  Upon first impressions, I immediately felt welcomed not only into the Preschool but in the Cherrybrook community.  At first apprehensive, my daughter settled into the Preschool very quickly and felt safe and secure.  After all the changes she had been through moving interstate this was very important to my husband and I.  She was then ready to start school.  My second daughter Hannah then started at 3, only 1 day per week.  It didn't take long for Hannah to feel safe and secure at CCPS either.  And at only 3, I was comfortable leaving her with the teachers in charge.  Hannah has since been attending Cherrybrook Community Pre-School a few days per week for the past 2 years…. Time never stays still and after 4 years being a part of Cherrybrook Community Pre-School it's time to say good-bye as Hannah starts school next year. My "Sydney" baby, Ben, isn't far away and will start at Cherrybrook Community Pre-School when he is 3 as well".                                                                                                    Carmel (2013)
"I am just writing to share our experiences at Cherrybrook Community Pre-school. Three of my children have attended the preschool the first starting in 2005. The children enjoyed their time there and learnt some great skills. The teachers who are very passionate about what they do have worked together for many years. This shows in the way they prepare their program for the children. The staff are all friends as well as colleagues. The children always come first. The preschool have a lovely warm caring feel about it.
My girls loved the craft activities and some of the great toys available which helped with fine and gross motor skills. My son was more interested in the outdoor facilities and some of the indoor games. They all learnt many skills in preparation for school life from correct pencil grip, taking turns, sharing, being aware of other children, being independent with their lunch boxes.
The children always wanted to go to preschool and were always fine with my departures and arrivals which made me feel comfortable with them being in a great spot. The teachers are very thoughtful and resourceful and always coming up with new and creative ideas for the children.
The children made some lovely friends who they now go to school with. It is lovely to hear the children sometimes say "mum, remember when I was at preschool and.. !" I look forward to my next child commencing there in 2015."                                                                               Donna (2013)
"My eldest children attended Cherrybrook Community Preschool back in 2001 and after looking at about 10 preschools in the area I knew that this preschool was the best stepping stone for my children to make friends and get ready for school.  All the children seemed happy and involved in their activities and the teachers were all attentive.  My twins enjoyed their 2 years and every day they were excited to attend.  I always felt happy to be leaving them with such lovely warm, caring teachers.  My last child attended in 2001 and I didn't even bother looking at any other preschools.  The teachers were all the same and that was my decision to return.  I made wonderful friends at preschool for life and being a Community based preschool you get to know the other parents and families.  My older children have recently reacquainted themselves at High School with friends they had in preschool.  It is a loving, nurturing environment where your children can grow socially in a safe and happy environment."                                                                                                   Alison (2013)